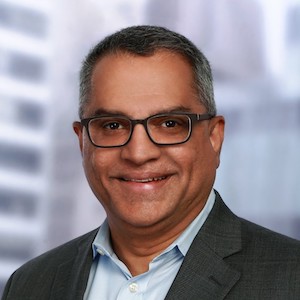 Raju Narisetti
Leader, Global Publishing

About … Raju is Leader, Global Publishing, at McKinsey & Co, the latest role in a distinguished 32-year career in media and publishing. Throughout his career, Raju has created, reimagined, and managed major media organizations in North America, Europe, and Asia, as well worked on the frontlines of the publishing industry's digital transformation challenges. He has an MA in Journalism from Indiana University, Bloomington and, prior to that, Raju received an MBA and a BA in Economics from Osmania University in India, where he was born.
Background … Prior to joining McKinsey in 2020, Raju was a journalism educator, leading the Knight Bagehot Fellowships in Economics and Business Journalism at Columbia University, where he also was a Professor of Professional Practice at the School of Journalism. Previously, he worked as a journalist at The Wall Street Journal where, over 14 years, he jumped from a reporting intern to Editor of the WSJ Europe, and later Managing Editor, Digital, of the global WSJ, and part of a team that won the 2002 Pulitzer Prize for Breaking News for 9/11 coverage. At The Washington Post, Raju was the Managing Editor who helped start and shape the newspaper's print/digital transformation. At both the WSJ and Washington Post, Raju was both the youngest and the first person of color on their mastheads. Raju is also the founder of Mint, India's business news brand. Raju later worked as a media business executive, first as Senior Vice President at News Corp. and later as CEO of the Gizmodo Media Group, which at the time encompassed a group of digital journalism sites that included Gizmodo, The Onion, Jezebel, DeadSpin, Lifehacker, and The Root. An alum of the World Economic Forum's Young Global Leader cohort, Raju is also a Board Trustee of the Wikimedia Foundation, which oversees and supports the global Wikimedia platform.
Top Accomplishments … Significantly expanding audiences for McKinsey's knowledge, insights, and themes during the pandemic … Jumpstarting a focus on audience development and digital innovation and offer engaging, multimedia experiences that deliver evolving insights … Building a publishing team that increasingly resembles the diversity of McKinsey's audience.
Hot Buttons … Developing more agile operating models and mindsets to fully embrace non-status quo behaviors, in the pursuit of deepening and broadening McKinsey audiences in clear, measurable ways … expanding the diversity and professional development of his publishing colleagues … creating transparent publishing goals that reflect McKinsey's reach, engagement, and impact.
PTL 2022 Focus … On Day 2, Raju and Lucia Rahilly, Global Editorial Director and Deputy Publisher, will discuss audience development through innovations in McKinsey's extensive thought leadership publishing operations, which reaches the most global B2B thought leadership audience outside of academic journals and traditional business media.
Register for This Year's Conference